The DeKalb-NIU station has been operating on NIU grounds since 1966 (now located west of Anne Glidden Road, south of the NIU REC Center and west of the new Alumni Center). Prior to that, the station was operated in Sycamore from 1888-1965. Daily observations of temperature (maximum and minimum), precipitation, snowfall, snow cover, soil temperatures, and evaporation (April 1 to October 31) are made by a student weather observer each day at 7 am. These observations are then transmitted to the NWS and a report of the data (and local forecast) recorded on a message machine (815) 753-1623. The weather director is responsible for maintaining the weather equipment, keeping the climate records, answering local climate questions, and developing a monthly climate summary. The climate records are kept in the NWS laboratory in Davis Hall. These records have been used by NIU students, faculty, and administrators to solve a myriad of weather-sensitive problems on and around campus.
The primary missions of the cooperative program are to: a) provide written observational data required to define the climate of the U.S. and to help measure long term climate changes, b) provide observational data in near real time to support forecast, warning, and other public service programs of the NWS, and c) disseminate these data to nearly 100 users in the DeKalb-Sycamore area.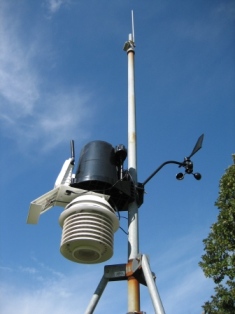 During fall 2006, the Coop station data were made available online through the support of the Department of Geography and the Northern Television Center! The Coop supports two Davis Station that deliver second-by-second weather information to over 400 organizations, including the NWS. The equipment required to make the online version of the Coop a reality was provided by the Department of Geography, Northern Television Center, and Walker Ashley. The Coop thanks Phil Young and Rick Schwantes for their help during installation of the equipment. The Coop also appreciates greatly the cooperation of the Northern Television Center, who graciously provided space for equipment.