Meteorology is a physical science that involves the study of the atmosphere and atmospheric phenomena as well as the atmosphere's interaction with the earth's surface, oceans, and life in general. Meteorologists work with real-time operations in atmospheric science, such as weather forecasting and broadcast media, as well as theoretical and applied research. Meteorologists use sophisticated tools such as satellites, radars, and powerful computers to assist them with observing and forecasting weather and understanding its impacts on humans and the environment.
Meteorology is a highly structured curriculum, building on two years of mathematics and one year of calculus-based physics. The core curriculum consists of a foundation course in physical meteorology, a two-course sequence in synoptic meteorology, a two-course sequence in atmospheric dynamics, remote sensing, and additional coursework outside the department in statistics and a computer programming language. Elective courses in the weather analysis and forecasting specialization examine topics ranging from how plants, buildings and the landscape affect atmospheric processes to the mechanisms underlying large-scale severe storms, how clouds and precipitation form, and the extrapolation of weather model forecasts to local settings. Courses in the applied climatology specialization focus more on the impacts of weather and climate on human activities and the environment, understanding the geographic and temporal variability of climate, and how we can use weather and climate information to adapt our behaviors to the inherent risk and uncertainty of climate change.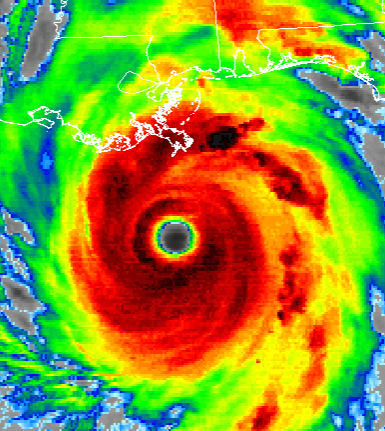 Hurricane Katrina as it nears the central
Gulf Coast on August 29, 2005.
The undergraduate degree program in meteorology at Northern Illinois University has been in existence since 1980. Ours was the first meteorology or atmospheric science degree program offered by a public university in the State of Illinois and we are also among the largest in North America. Class sizes in required courses are small and personable-averaging between 25 and 30, while enrollments in electives courses are typically smaller. In addition to regular coursework, students develop valuable preprofessional experience by participating in faculty research projects, forecasting for the campus student newspaper and cable television, operating the NIU-National Weather Service Cooperative Weather Station, serving the community as severe weather watchers, conducting weather awareness seminars in local schools, and through internship experiences with the NWS and various weather-sensitive organizations in northern Illinois. Students develop a broader sense of the field of meteorology and its value to society through activities of a student chapter of the American Meteorological Society.
Students having completed the B.S. in Meteorology at Northern Illinois University have successfully established careers in: weather forecasting, broadcast meteorology, research meteorology, air pollution control, climatology, aeronautical and marine meteorology, industry consulting (e.g., agriculture, energy, financial, retail, recreation, transportation), natural hazards warning and mitigation, risk assessment, environmental engineering, and water supply management, and pursued graduate degrees in atmospheric science, geography, and environmental science.
Students should seek the aid of an Academic Advisor as soon as possible after deciding to major in Meteorology. Contact the Department of Geography, Davis Hall 118, at (815) 753-0631.